This page includes step by step guide on How to get the Mobikwik Loan in 90 Seconds.
Before applying for any kind of loan from any apps and banks you need to check out the following details
First Checkout whether your mobile number is linked to your Aadhar Number or not if not you need to link the mobile number to Aadhar Number otherwise the approval chances for a loan will below.
we need to study the details of the loan providers, so here in this page we are going to cover all the details of Mobikwik.
Okay, coming back to the point let me cover the brief introduction about Mobikwik loan provider.
---
STEP 1 : ABOUT MOBIKWIK LOAN
Mobikwik is an online digital payment application that has over 30 Lakhs, merchant partners. People usually use this application for the following purposes
Mobile Recharge
DTH Recharge
Electricity Bill Payments
EMI
Insurence
Water Bill Payment
Credit Card
LPG Booking etc.
---
STEP 2 : WHO CAN APPLY
Basically, anyone with the Mobikwik apk download can apply for this loan and this loan is meant for everyone.
If you don't have a Mobikwik apk, download from the below download link from the google play store and get an instant loan from Mobikwik.
If you are a new customer to Mobikwik then you need to register your mobile number and link your bank account and personal details in the Mobikwik application and after doing all this you will get a password from Mobikwik.
Mobikwik provides super safe payment with extra in-app security and also it's all available on all kinds of platforms which include Android, Windows, and IOS. Mobikwik services are available both through website and application with user UI interface.
---
STEP 3 : FEATURES OF MOBIKWIK LOAN
The following are some of the features of MOBIKWIK LOAN
MOBIKWIK LOAN ranges from Rs.10,000 to Rs.5,00,000.
Loan amount will be creditd to your Mobikwik wallet.
You can make auto payment of Mobikwik loan amount through EMI
Rate of Interest start from 15%.
Basically the rate of interest will be generated at the time of applying the loan and it will vary from one person to other person depending on the credit history of an individual.
---
STEP 4 : DOCUMENT REQUIRED
In order to get instant Mobikwik Loan approval, you need to be more careful while entering the details which are mentioned below
Aadhar Card(Before applying for loan checkout wheather your Aadhar number is linked to your mobile number or not).
PAN Card
Cibil Score should be good to get easy loan approval.
---
STEP 5 : STEPS TO APPLY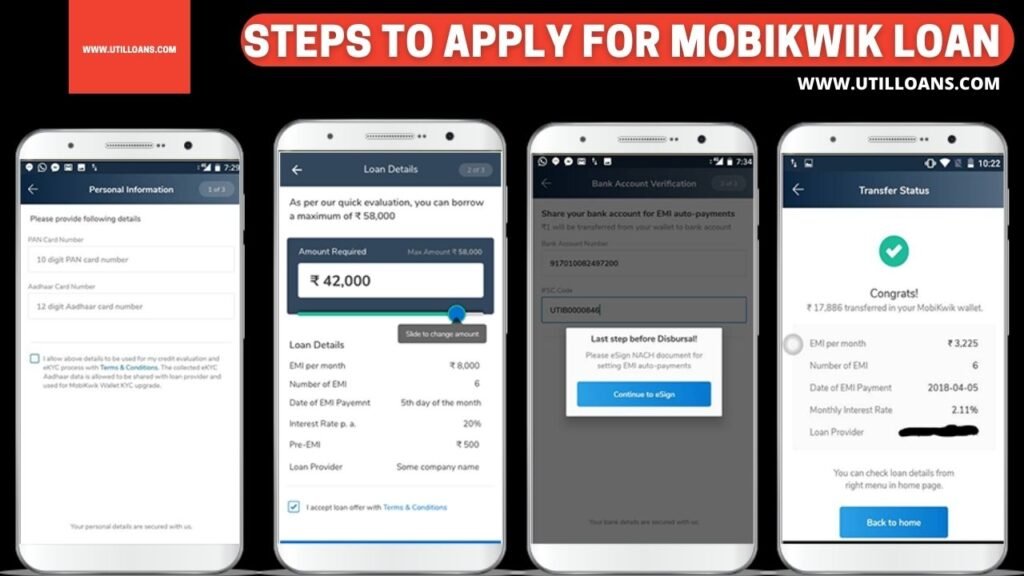 Step 1: Mobikwik apk download.
Step 2: Link your mobile number and bank account.
Step 3: Complete your KYC(Know Your Customer).
Step 4:– After the loan approval the amount will be credited to your Mobikwik wallet.
Step 5:– You can auto the Mobikwik Loan amount through EMI.
---
STEP 6 : WHERE TO USE MOBIKWIK LOAN
The following are some of the payment methods where you can use your Mobikwik loan
Mobile Recharge
Credit Card
Mobile Bill Payment
Flipkart Shopping
Electricity Bill Payment etc.
Note:-You can transfer the Mobikwik Loan amount to your bank account.
---
STEP 7 : APPROVAL TIME FOR MOBIKWIK LOAN
Mobikwik Loan approval doesn't take a long time for the loan approval, you can get the loan within 90 seconds after the completion of your KYC and submission.
If in case you won't get the loan then you need to check out the entered details correctly or not once again.
The chances of rejection will be higher if your CIBIL score is not good.
Checkout your CIBIL score here
For easy loan approval, your CIBIL Score should be closer to 900.
Download MOBIKWIK Applicaiton:-
---
STEP 8 : MOBIKWIK ZIP TO BANK TRANSFER | MOBIKWIK WALLET TO BANK TRANSFER
The following are the method which help for Mobikwik Wallet / Zip to bank transfer.
Add money to mobikwik wallet from usin credit / debit card.
Click on 'Transfer Money' on the app. Find an option of mobikwik wallet to bank transfer.
Add the bank account details to whom you want to sent and hit continue.
The amount will be transfered and it will reflected within a minute.
STEP 8 : MOBIKWIK CUSTOMER CARE NUMBER AND EMAIL ID
Customer Care Number:-011 6126 6390(Monday to Saturday 9:00am to 8:00pm)
Mail Id:- Click Here
Contact Address:-5th Floor, Huda City Centre Metro Station, Sector 29, Gurugram, Haryana 122001, India.